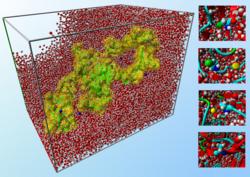 The low density lipoprotein receptor contributes to cholesterol cleansing in the blood. The figure shows the simulation box with LDLr in water (left) and several mutation sites (right) involved in familiar hypercholesterolemia. The latter is the main risk factor in atherosclerosis.

Le récepteur de lipoprotéines de faible densité (rLDL) contribue par son activité à l'épuration du cholestérol sanguin. La figure montre la boîte de simulation avec rLDL dans l'eau (gauche) et plusieurs sites de mutation (droite) impliqués dans l'hypercholestérolémie familiale. Cette dernière est le principal facteur de risque de l'athérosclérose.
The image above was prepared with Yasara. © 2005 M. Baaden, R. Lavery, Laboratoire de Biochimie Théorique, CNRS UPR9080, Paris.